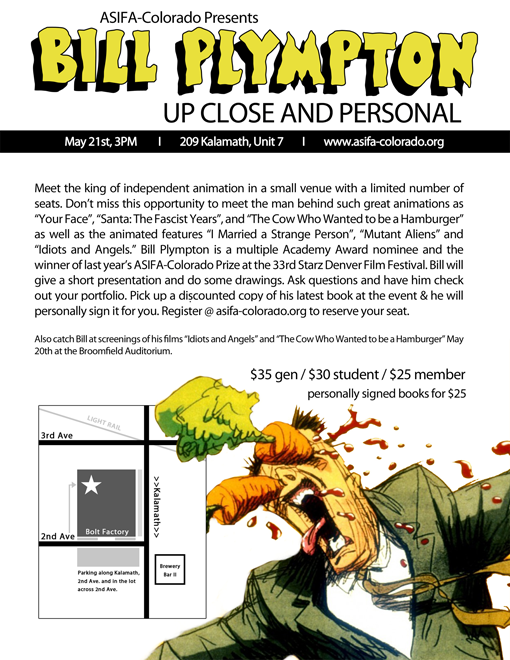 Saturday May 21st, 3pm
209 Kalamath, Unit 7

$15 general, $12 Students and Seniors
Discount for ASIFA members
Meet the king of independent animation in a small venue with a limited number of seats. Don't miss this opportunity to meet with man behind such great animations as "Your Face," "Santa: The Fascist Years," and "The Cow Who Wanted to be a Hamburger" as well as the full length animated features "I Married a Strange Person," "Mutant Aliens" and "Idiots and Angels." Bill Plympton is a multiple Academy Award nominee and the winner of last year's ASIFA-Colorado Prize at the 33rd Starz Denver Film Festival. Bill will give a presentation and do some drawings. Attendees will get the chance to chat with Bill and have him to check out your portfolio. Pick up a discounted copy of his latest book at the event he will personally sign it for you.
Also catch Bill at screenings of his films "Idiots and Angels" and "The Cow Who Wanted to be a Hamburger" May 20th at the Broomfield Auditorium.
Minimum Age: 15
Kid Friendly: No
Dog Friendly: No
Non-Smoking: Yes!
Wheelchair Accessible: Yes!
Mamie Doud Eisenhower Library, Broomfield, CO, 1-800-838-3008
For ticket info:
http://www.onesandzeros.webs.com/
http://www.brownpapertickets.com/event/160230